Portal Jurnal Universitas Islam Indonesia adalah sistem manajemen jurnal elektronik yang dipublikasikan oleh Universitas Islam Indonesia.
Dikelola berdasarkan Sistem Akreditasi Jurnal Kemristekdikti ARJUNA (http://arjuna.ristekdikti.go.id) dan menjadi bagian dari Sitasi Jurnal dari Indonesian Science Index (Sinta) http://sinta.ristekdikti.go.id
Universitas Islam Indonesia sebagai penerbit jurnal online telah menjadi anggota DOAJ (Directory of Open Access Journals) dan sudah terindeks di BASE (Bielefeld Academic Search Engine).
Alamat OAI: http://journal.uii.ac.id/index.php/index/oai
A B C D E F G H I J K L M N O P Q R S T U V W X Y Z All
Media Informatika
View Journal | Current Issue | Register
Millah: Jurnal Studi Agama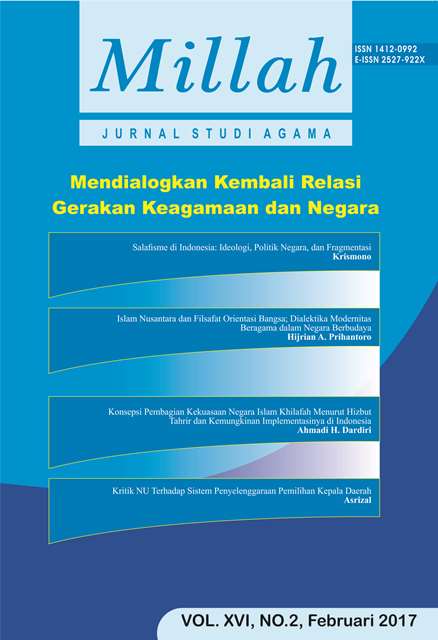 Millah (abstracted from Holy Qur'an Chapter Al-Hajj Verse 78) is published by Postgraduate Program of Faculty of Islamic Studies, Islamic University of Indonesia as medium for communication and dissemination of academic research in religious studies. The journal is published biannually and was published for the first time in August 2001. The journal has been accredited based on SK DIRJEN DIKTI KEMENDIKNAS RI NO 64a/DIKTI/Kep/2010.

Millah (diambil dari QS. Al_Hajj: 78) diterbitkan oleh Program Pascasarjana Magister Ilmu Agama Islam, Fakultas Ilmu Agama Islam,  Universitas Islam Indonesia sebagai media penuangan dan pengkajian karya ilmiah dalam bidang keagamaan. Jurnal ini diterbitkan dua kali setahun dan pertama kali terbit pada bulan Agustus 2001. Jurnal Millah sudah terakreditasi berdasarkan: SK DIRJEN DIKTI KEMENDIKNAS RI NO 64a/DIKTI/Kep/2010
Alamat Redaksi: Jl. Demangan Baru No. 24 Lantai II, Yogyakarta 55281 Telp./Fax. 0274-523637 Email: millah@uii.ac.id