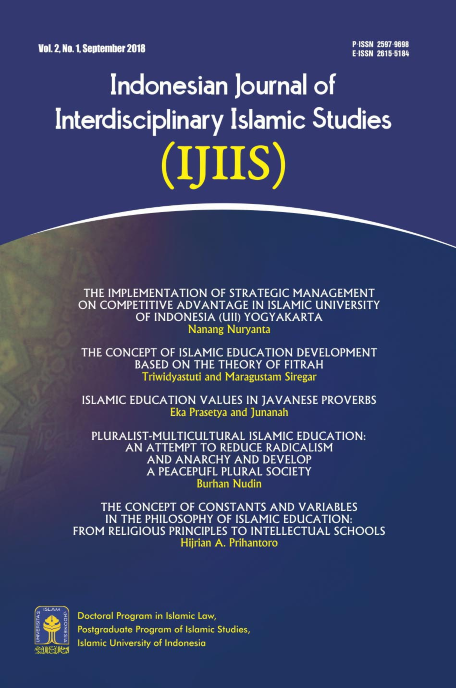 We are very pleased to present The Indonesian Journal of Interdisciplinary Studies (IJIIS) Volume 2, No. 1, 2018. This issue mainly consists of selected papers discussing several interesting and interrelated educational topics such as educational management, educational theories development, Islamic multicultural education, culture and Islamic education and the philosophy of Islamic education. In the first article, The Implementation of Strategic Management on Competitive Advantage in Islamic University of Indonesia (UII) Yogyakarta, Nanang Nuryanta discusses the extent to which the principles and steps of strategic management has been applied by the Islamic University of Indonesia in increasing its competitive advantage.
The second article by Triwidyastuti and Maragustam titled The Concept of Islamic Education Development Based on the Theory of Fitrah then looks at the debate on educational theories or philosophies by offering a comparative analysis on the theory of fitrah and the Nativism, Empiricism and Convergence theories. Following this, Eka Prasetya and Junanah's article, Islamic Education Values in Javanese Proverbs, discusses how certain Javanese proverbs contain Islamic values and how they can be integrated into three centres of education. Following this, Burhan Nudin in his article Pluralist-Multicultural Islamic Education: An Attempt to Reduce Radicalism and Anarchy and Develop A Peaceful Plural Society, discusses more specifically on the importance of developing a pluralist-multiculturalist Islamic education as an alternative approach in eradicating religious radicalism and anarchy.
The last article by Hijrian Prihantoro titled The Concept of Constants and Variables in the Philosophy of Islamic Education: From Religious Principles to Intellectual Schools, examines the concept of constants and variables in Islamic education. This issue is then concluded by a review by Rafiu Ibrahim Adebayo of the book titled "The History and Philosophy of Islamization of Knowledge: A Preliminary Study of Pioneers' Thought" by Muhammad Mumtaz Ali. It is hoped that this publication will encourage further research and discussion on various issues concerning Islam and Muslim societies from various disciplinary backgrounds.
Published: September 30, 2018