Khazanah: Jurnal Mahasiswa
Vol 11, No 2: Oktober 2019
Articles
PERAN KEBERSYUKURAN TERHADAP WORK ENGAGEMENT PADA PEGAWAI APARATUR SIPIL NEGARA (ASN) DI KABUPATEN SINTANG PROVINSI KALIMANTAN BARAT

Muhammad Hafiz, Irwan Nuryana Kurniawan
"Khazanah: Jurnal Mahasiswa" merupakan platform publikasi jurnal yang mulai diresmikan pada tahun 2009. Jurnal Khazanah diterbitkan oleh Direktorat Pembinaan Kemahasiswaan (DPK) Universitas Islam Indonesia yang bekerjasama dengan Kelompok Studi Laboratorium Mahasiswa (LabMa) Universitas Islam Indonesia. Jurnal Khazanah telah terverifikasi pada Online Journal System (OJS) dibawah naungan jounal.uii.ac.id sejak tahun 2011. Jurnal Khazanah telah rutin menerbitkan jurnal dalam 1-2 edisi per tahun. Karya yang diterbitkan merupakan suatu hasil penelitian orisinil atau tinjauan Pustaka yang ditulis oleh mahasiswa. Ruang lingkup karya yang diterbitkan mencakup sains dan sosial.
"Khazanah: Jurnal Mahasiswa" is a journal publication platform that was inaugurated in 2009. The Khazanah journal is published by the Directorate of Student Affairs (DPK) of the Universitas Islam Indonesia in collaboration with the Laboratorium Mahasiswa (LabMa). Khazanah Journal has been verified in the Online Journal System (OJS) under the auspices of jounal.uii.ac.id since 2011. Khazanah Journal has routinely published 1-2 editions per year. The work published is the result of original research or literature review written by students. The scope of work published includes science and social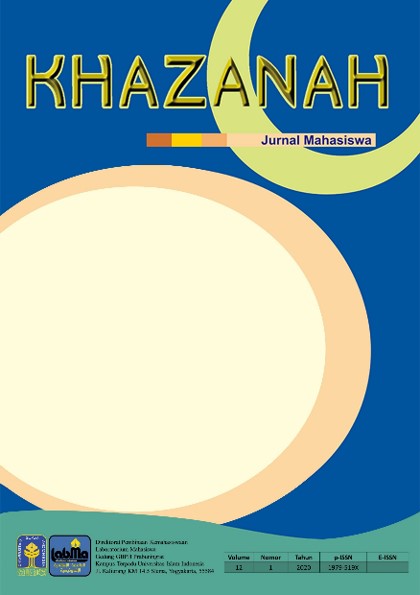 REQUIRED TOOLS
Penulisan artikel ilmiah di "Khazanah: Jurnal Mahasiswa" harus menggunakan mendeley untuk penulisan referensi, grammarly agar memastikan artikel yang berbahasa inggris tidak mengandung grammatical error, dan penulis wajib memastikan bahwa artikel tidak melewati batas cut-off plagiasi 30% melalui aplikasi turnitin.
Scientific articles that submitted in "Khazanah: Jurnal Mahasiswa" must use Mendeley for reference writing, grammarly to ensure that English article do not contain grammatical errors, and authors must ensure that articles do not exceed the 30% plagiarism cut-off limit through the application of turnitin.
ATTACHMENT FILE
Berikut merupakan file yang harus dilampirkan ketika penulis mempublikasikan artikel, antara lain: biodata penusi, isian persetujuan etika publikasi, form penyataan originalitas dan persetujuan publikasi, dan template artikel yang dapat digunakan sebagai panduan penulis.
These files that must be attached when the author publishes an article, including: curriculum vitae, contents of publishing ethical statement, originality and publication approval letter, and article template that can be used as an author's guide.
JOURNAL INDEX
"Khazanah: Jurnal Mahasiswa" telah terindeks oleh:
"Khazanah: Jurnal Mahasiswa" indexed by: