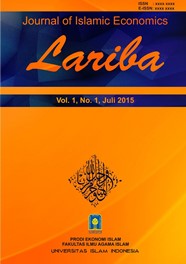 Journal of Islamic Economics Lariba provides platform for academicians, researchers, lecturers, students and others having concern about Islamic economics, finance, and development.
The journal is proudly presented by Department of Islamic Economics, Faculty of Islamic Studies, Islamic University of Indonesia.
The journal is accreditted Sinta 3 based on Keputusan Menteri Riset dan Teknologi/Kepala Badan Riset dan Inovasi Nasional Republik Indonesia Nomor 200/M/KPT/2020 Tentang Peringkat Akreditasi Jurnal Ilmiah Periode III Tahun 2020.
The accreditation is valid from Vol. 6, No. 1, 2020 until Vol. 10, No. 2, 2024.
Table of Contents
Articles
| | | |
| --- | --- | --- |
| | Yuli Astuti, Tulus Suryanto, Heni Noviarita, Surono Surono | 93-101 |
| | Hulaiva Pary, Jaenudin Jaenudin, Muh. Fauzan Januri | 103-111 |
| | Deden Misbahudin Muayyad, Didik Jatmiko | 113-124 |
| | Cici Widya Prasetyandari, Zahida I'tisoma Billah | 125-133 |
| | Nurfiah Anwar, Syarifuddin Syarifuddin | 135-144 |
| | Achmad Rizal, Imam Wahyu Indriawan, Adib Susilo, Azidni Rofiqo | 145-154 |
| | Ahmad Nurozi | 155-169 |