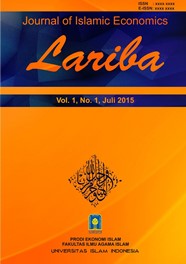 Journal of Islamic Economics Lariba provides platform for academicians, researchers, lecturers, students and others having concern about Islamic economics, finance, and development.
The journal is proudly presented by Department of Islamic Economics, Faculty of Islamic Studies, Islamic University.
The journal is accreditted with Rank 4 based on Keputusan Direktur Jenderal Penguatan Riset dan Pengembangan Kementerian Riset, Teknologi, Dan Pendidikan Tinggi, Republik Indonesia, Nomor 21/E/KPT/2018, Tentang Peringkat Akreditasi Jurnal Ilmiah Periode I Tahun 2018.
The accreditation is acknowledged in July 9, 2018 and valid until July 8, 2023.
Table of Contents
Articles
| | | |
| --- | --- | --- |
| | Ahmada Khoirul Umam, Onny Herlambang Putra Wardhana | 102-122 |
| | | |
| --- | --- | --- |
| | Hadi Suharno, Afriani Afriani | 123-150 |
| | | |
| --- | --- | --- |
| | Arif Sapta Yuniarto, Siti Hardini | 151-168 |
| | | |
| --- | --- | --- |
| | Asat Asat, Arief Subyantoro | 169-190 |
| | | |
| --- | --- | --- |
| | Widyan Apriliska Fajri, Devita Alliv Nurdiana, Sulistya Rusgianto | 191-211 |