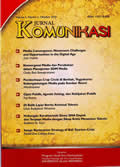 Journal Komunikasi is a peer-review journal published by Department of Communication Universitas Islam Indonesia, Yogyakarta, Indonesia, in collaboration with APJIKI (Asosiasi Penerbit Jurnal Ilmu Komunikasi Indonesia). We welcome all contributions on the following topics media, journalism, strategic communication and all field related to communication studies. The article that uses critical theories/perspectives and encourages the spirit of empowerment would be more preferred.
The journal is accreditted with Rank 4 based on Keputusan Direktur Jenderal Penguatan Riset dan Pengembangan Kementerian Riset, Teknologi, Dan Pendidikan Tinggi, Republik Indonesia, Nomor 21/E/KPT/2018, Tentang Peringkat Akreditasi Jurnal Ilmiah Periode I Tahun 2018.
ISSN : 2548-7647 (online) 1907-848X (Print)
Jurnal Komunikasi indexing in :
The accreditation is acknowledged in July 9, 2018 and valid until July 8, 2023.
Vol 14, No 2 (2020): VOLUME 14 NO 2 APRIL 2020
Table of Contents
Front Matter
Articles