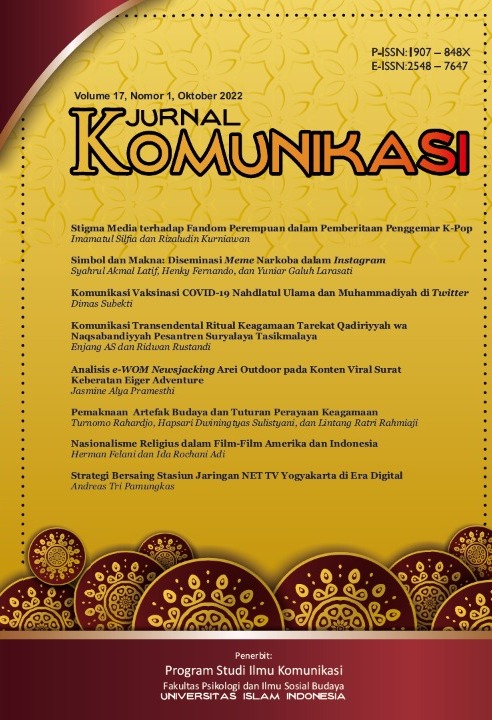 Journal Description
| | |
| --- | --- |
| Journal title | : Jurnal Komunikasi |
| Frequency | : 2 issues per year | April & October |
| DOI | : Prefix 10.20885/komunikasi |
| ISSN | : ISSN : 2548-7647 (online) | 1907-848X (Print) |
| Publisher | : Department of Communications, Universitas Islam Indonesia |
| Citation Analysis | : Google Scholar | SINTA |
Journal Komunikasi is a peer-review journal published by Department of Communications Universitas Islam Indonesia, Yogyakarta, Indonesia, in collaboration with APJIKI (Asosiasi Penerbit Jurnal Ilmu Komunikasi Indonesia). We welcome all contributions on the following topics media, journalism, strategic communication and all field related to communication studies. The article that uses critical theories/perspectives and encourages the spirit of empowerment would be more preferred.

Jurnal Komunikasi publishes twice a year, in April and October, by the Department of Communications, Universitas Islam Indonesia. Jurnal Komunikasi is available in printed 1907-848X (Print) and electronic version 2548-7647 (online).
The journal is accredited by Sinta 2 based on Keputusan Menteri Riset dan Teknologi/Kepala Badan Riset dan Inovasi Nasional Republik Indonesia Nomor 200/M/KPT/2020 Tentang Peringkat Akreditasi Jurnal Ilmiah Periode III Tahun 2020.
Jurnal Komunikasi is indexed in the Directory of Open Access Journals (DOAJ), Google Scholar, Sinta, Garuda, One Search Indonesia, IndexCopernicus, Harvard Library, Worldcat, Columbia University Libraries, Scilit, Universiteit Leiden Catalogue, Oxfords Library Online, Max Plank Institute for Research on Collective Goods Library, The University of Sheffield Library, and a member of Crossref.
VOLUME 17 NO 1 OKTOBER 2022
Volume 17, Number : 1
October 31, 2022
Current Issue