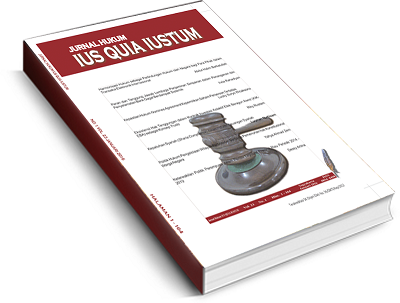 Jurnal Hukum Ius Quia Iustum Volume 25 Nomor 1 Januari 2018 hadir kembali dengan mengangkat beberapa isu hukum kontemporer. Artikel pertama berjudul "Implementation of Trade Regulations on Fisheries to Prevent Fish Laundry in Indonesia", yang membahas tentang pelaksanaan peraturan perdagangan di bidang perikanan untuk mencegah fish laundry di Indonesia berikut juga dengan kelemahan yang ada di dalamnya. Analisis dalam artikil ini menghasilkan kesimpulan bahwa peraturan perundang-undangan di bidang perikanan masih berfokus pada prosedur administratif, juga masih mengedepankan aspek pelayanan disbandingkan dengan pengawasan di bidang perikanan, sehingga kurang efektif untuk mencegah adanya fish laundry.
Artikel selanjutnya membahas tentang "Kebebasan Memilih Pihak dalam Kontrak pada Asas Kebebasan Berkontrak dalam Sewa Menyewa Kamar Tinggal". Artikel ini membahas tentang praktek sewa kost di Indonesia yang sering sekali ditemukan, bahwa pemilik tempat tinggal hanya menerima penyewa Muslim dengan memasang papan bertuliskan "Terima Kost Muslim", padahal salah satu cakupan kebebeasan berkontrak adalah bebas memilih dengan siapa seseorang membuat perjanjian.
Artikel selanjutnya berjudul "Peran Pemerintah Daerah untuk Mewujudkan Kota Layak Anak di Indonesia", yang mengulas tentang partisipasi pemerintah daerah dalam upaya mewujudkan kota/kanupaten layak anak di Indonesia, berikut faktor yang mempengaruhi pemerintah daerah untuk mewujudkan kota layak anak.
Masih terdapat beberapa artikel lain yang dimuat di dalam Volume 25 Nomor 1 Januari 2018 ini, di samping beberapa artikel di atas. Beberapa di antaranya adalah "Evaluasi Program Peningkatan Kompetensi Hakim Melalui Pelatihan yang Terintegrasi dan Berkelanjutan di Indonesi", "Harmonisasi dan Sinkronisasi Hukum terhadap Perbedaan Pengaturan Barang Impor dalam Keadaan Baru", "Proporsionalitas dalam Kebijakan Formulasi Sanksi Pidana", Menakar Justice for Peace dalam Penyelesaian Sengketa Konsumen Melalui Mediasi (Studi Keputusan BPSK No. Reg. 004/REG/BPSK-DKI/I/2016)", "Model Penyelesaian Sengketa dan Peradilan Adat di Aceh", "Batasan Melawan Hukum dalam Perdata dan Pidana Pada Kasus Persekongkolan Tender", dan "Toward Legal Coherence in Trademark Law and Investment Law of Asean Countries Post AEC (Asean Economic Comunity) Blueprint 2025".
Akhir kata, semoga kehadiran Jurnal 
Ius Quia Iustum 
dapat memperkaya khasanah pengetahuan pembaca dan dapat memberikan sumbangan positif bagi perkembangan hukum di Indonesia. Kami mengucapkan terima kasih kepada mitra bestari yang telah bersedia memberikan catatan-catatan penting terhadap artikel Jurnal 
Ius Quia Iustum,
 dan kepada penulis yang telah bersedia menyumbangkan gagasannya.
Published: August 14, 2018